Background
For many patients, a traditional colonoscopy investigation may be difficult to tolerate.
Alternatives, such as Colon Capsule Endoscopy offer clinicians and patients a genuine choice of investigation in some circumstances.
What is Colon Capsule Endoscopy (CCE)?
Colon Capsule Endoscopy - also known as Pillcam, offers a new alternative to traditional colonoscopy. The patient swallows a capsule that contains a small disposable camera.
The capsule is the size of a large vitamin pill (approximately 26mm X 11mm). Once the patient has taken the capsule and has the receiver in place to capture the images, they are free to go home. The camera takes thousands of pictures as it travels along the patient's gut, which takes about eight hours.
These pictures are transmitted wirelessly to a data recorder worn by the patient at their waist. After the procedure, the pictures are uploaded and a trained nurse or clinician will review the images for signs of abnormalities.
A CCE looks at the inside of the large bowel (colon). There may be a need for an endoscopy, if the patient shows symptoms of bowel cancer.
NHS England is supporting the introduction of Colon Capsule Endoscopy as part of their COVID recovery response.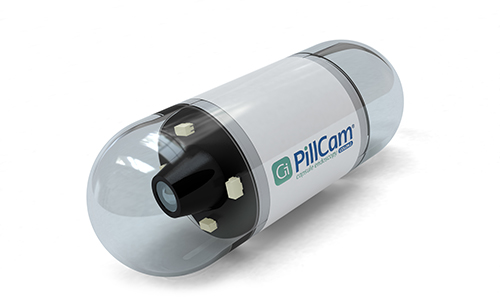 Image courtesy of Medtronic
Benefits
One major benefit in the context of COVID-19 is that the procedure is non-aerosol generating, thereby reducing the risk to both the patient and healthcare professional. It can be delivered outside the endoscopy suite in a separate clinical room, in both primary and secondary care.
There are benefits to the patient in terms of the ease of the procedure and that it can be delivered in some cases outside the hospital environment.
This test isn't available in all hospitals at the moment within Lancashire and South Cumbria Cancer Alliance.
The CCE procedure is being piloted within Lancashire Teaching Hopsitals NHS Foundation Trust.
Further information is available.
You can also visit our Endoscopy page.
Page last updated: 11:32, 04/11/2022